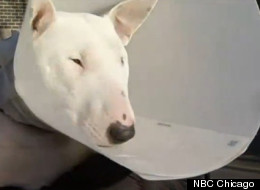 Posted: 12/05/2012 2:30 pm EST Updated: 12/05/2012 5:17 pm EST
"Absolutely irresponsible" is how Al Phillips describes Brandon Pettigrew, the Chicago police officer who shot his prize puppy while writing a ticket Saturday. Now, Phillips and his wife Barbara are suing the city.
In the lawsuit filed Tuesday in Cook County Circuit Court, the owners of the wounded seven-month-old miniature bull terrier named Colonel, allege injury to their dog and emotional distress, reports Fox Chicago. In addition, the couple claims retaliation and intimidation from police after they spoke to the media about the incident.
"The main goal of the Phillips family is to make sure that this doesn't happen again," Michael Lamonica, the family's attorney, explained to the station. "It's obviously unacceptable for police officers to be shooting animals, especially animals that aren't doing anything to deserve it."
Puppy Shot By Chicago Cop: Lawsuit Against City Filed As Dog Owners Allege 'Abuse Of Power'