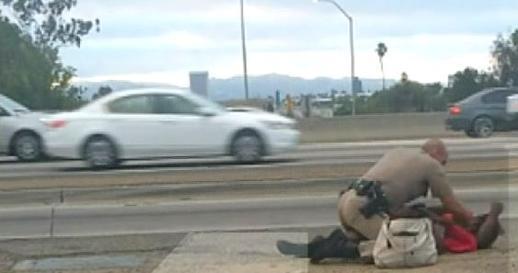 The woman seen on a now-viral video being repeatedly punched by a California Highway Patrol officer said her dress was violently ripped to expose her bare buttocks as she told the officer "I didn't do anything to you," according to a federal civil rights lawsuit filed last week and amended Friday.
Marlene Pinnock, 51, said in the lawsuit that she had dealt with the officer in the past, and that he called her by name as she walked in the area of the 10 Freeway west of downtown Los Angeles July 1. When she began to leave the area the lawsuit alleges she was "violently thrown to the ground" by the officer.
"He was bamming me in my temples with all the strength he had," Pinnock said in the lawsuit. Pinnock said she told the officer, "stop, I didn't do anything to you."
CHP Commissioner Joseph Farrow told the Sacramento Bee newspaper last week that "the need for more (training) has been exposed," in reference to the video and how the law enforcement agency deals with the mentally ill.
CHP Officer Hit Woman in Now-Viral Video With "All the Strength He Had": Lawsuit